Romney Readiness Project 2012
Purchase at Amazon.com today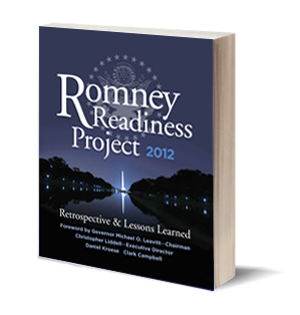 This retrospective book documents the work done by the Romney Readiness Project in preparation for the possible transition of candidate Mitt Romney following the 2012 Presidential Election. Even though the Campaign was unsuccessful, it is important to catalog and describe the work done for the benefit of future election cycles. Early and comprehensive transition planning is prudent, not presumptuous. New presidents face a daunting set of issues and decisions, notably around policy implementation and people selection. A tremendous amount of work and planning is required to effectively prepare for these decisions. A 2010 amendment to the Presidential Transition Act of 1963 recognized the magnitude of this planning by providing pre-election transition support. As a result, the Readiness Project was the first transition effort to operate under this new framework.
The focus of the book is:
WHAT was done (this is the primary focus)
WHY actions were taken (and the reasoning behind certain critical decisions)
WHO did what (although the intent is not to be overly biographical)
The book is a candid and detailed account about what was done well, what could have been improved upon and lessons learned. It is hoped that future transition teams from both parties can benefit from reading this retrospective.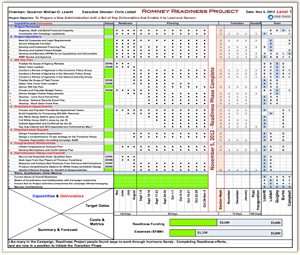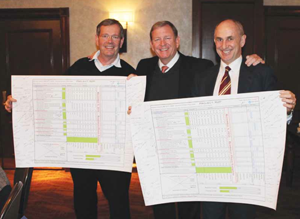 Concerning the involvement of OPPMs, Governor Michael O. Leavitt, Project Chairman writes,
"Clark Campbell joined our team early. Clark is the author and developer of a system called the One-Page Project Manager. As Secretary of HHS and since, I have used the system as a staple of my executive toolkit to organize and manage complex tasks. I invited Clark to join us part time, but soon it evolved to full time. So, we had the guy who wrote the book on project management to drive our effort."