The One-Page Project Manager for IT Projects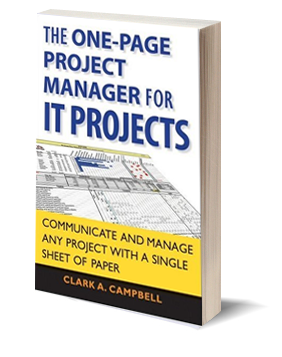 Clark A. Campbell, author of a best-selling book on project management, has written a project management guide specifically for IT professionals who want to save time and work more efficiently. The One Page Project Manager for IT Projects:Communicate and Manage Any Project With A Single Sheet of Paper presents you with a winning formula for managing your complex IT projects using minimal resources. Coverage of vital topics like working with outside consultants, ERP project management, and ISO 9000 will be of special interest to IT managers and CIOs.
In The One-Page Project Manager, Clark Campbell showed managers how to reduce any project—no matter how big or complicated—to a simple, one-page document perfect for expressing essential details, communicating those details to upper management, and tracking progress. Now, this uncommonly practical guide offers the same concise thinking and practical guidance to IT project managers. Fully adaptable to virtually any project in your organization, The One-Page Project Manager for IT Projects is the ultimate tool for overworked IT managers who understand the value of simplicity.