Consulting Speaking & Training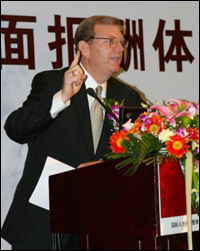 To have Clark and or Mick speak for your organization or seminar, contact us at 801-930-0560 or by filling out our contact us form
The One Page Project Manager is not an academic or theoretical idea, but a proven tool. The authors have used one-page project managers for many years on many projects. The budgets of these projects have been as small as a few thousands of dollars, and as large as tens of millions of dollars. They have involved an extraordinarily-wide range of projects: winning a management prize, gaining ISO 9000 certification, reducing accounts receivables, launching an new e-commerce business, constructing a major building and implementing a corporate-wide software system. These projects are mentioned throughout the book.
The reader knows that the author speaks from experience and that the one-page project manager tool works. This gives the book a high degree of credibility. And the fact that the tool has been tested in the cauldron of real-world situations can be used in the book's marketing.
The authors have advised corporations and taught university graduate students the One-Page Project Manager. These include: General Electric, PetroChina, Tasley Pharmaceuticals, Peking University, Tsinghua University, University of Utah, Society of Certified Public Managers, Partners in Business - Utah State University, Utah Society of Public Relations Professionals, Human Resourses Association of China.