The NEW The One-Page Project Manager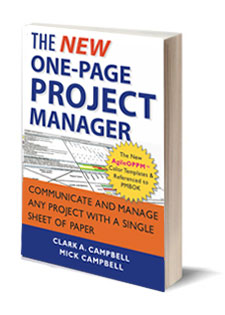 The NEW One-Page Project Manager
With The New OPPM™, this uncommonly practical guide, currently saving time and effort in thousands of organizations worldwide, has itself been simplified, then refined and extended to include the innovative AgileOPPM™.
Scheduled for release fall of 2012, this new edition will include new material and updates including:
OPPM™ templates in color.
Introduction of the ground-breaking AgileOPPM™
References throughout the book to the affiliated sections in the Project Management Body of Knowledge (PMBOK)
Overview of MyOPPM™ online template builder, and much more.
This new book will help you master the one-page approach to both Traditional project management and Agile project management.